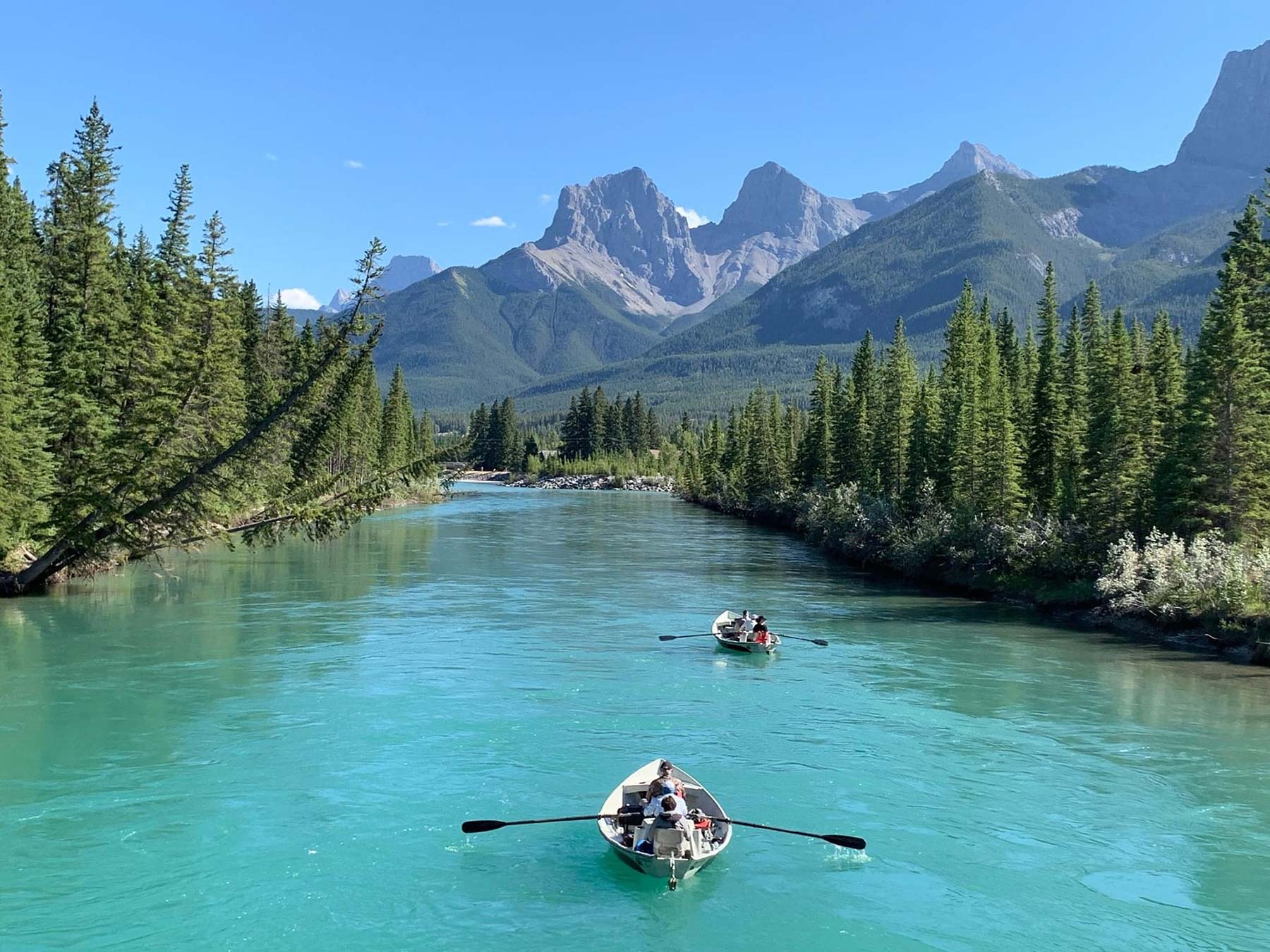 Your Fishing Headquarters in the Canadian Rockies for over 30 Years!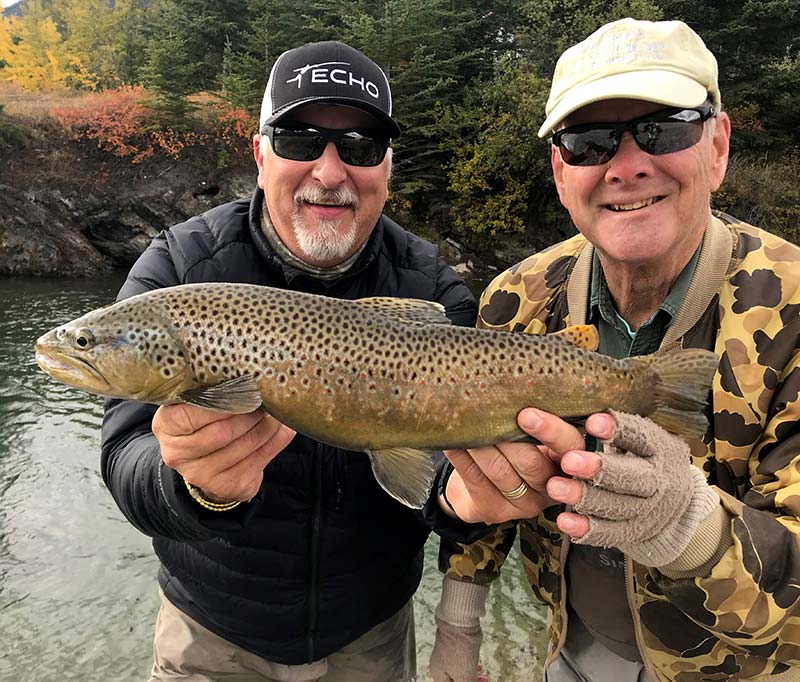 The entire Wapiti Team welcomes you to the beautiful Bow Valley in the Canadian Rockies. We love our home and can't wait to share it with you.
We offer a comprehensive selection of fly and spin fishing gear in our full service retail store, fly casting lessons and fully guided fishing trips in the Canmore area.
Whether it's choosing that perfect fly rod, or booking a day of fishing with a knowledgeable guide – we are here to help!
The world renowned Upper Bow River runs right through the town of Canmore. Our pristine mountain waters harbor some of the most spectacular trout fishing in the province of Alberta. This stretch of river is strictly Catch & Release to provide you with the Brown Trout excitement that the Bow River is famous for. There are few places in the world with views like that of the Upper Bow River and the rugged peaks of the Alberta Rockies will take your breath away.
The town of Canmore lies amidst the most magnificent mountain scenery. A picturesque view of the majestic Alberta Rockies awaits you. We are located approximately one hour west of the Calgary International Airport and just minutes east of the Banff National Park Boundary.
Come join us for a Guided Fishing Adventure found only in the Canadian Rockies.
Food reviewer
September 29, 2022.
Wapiti Super knowledgeable and fun guys to come chat with and a beautiful shop. Me and my buddy were looking to get out on the river with a guide and the guys made it happen with super late notice. We got out with nick and I think it's safe to say it was one of our best days fishing together ever, nick will keep you laughing all day guys a legend I never write reviews for anything but I highly recommend it to anyone that wants to have a awesome day on the water and not have to worry about much. Thanks again Nick it was a day we won't forget (Lots of nice fish caught the pics just got all the boys in it)

austin o
September 29, 2022.
Great days fishin! Took a full day trip with Nick and couldn't recommend it more. He is extremely knowledgeable, entertaining and motivating. We had a great days fishing but I feel even if we had caught 0 fish it would still have been a terrific day out. He'll take you to some beautiful spots and will definitely get you on a few trout on the way. Thanks a tonne nick for the wicked day. -Austin & Tyler

Scott M
September 19, 2022.
Awesome Trip I was fortunate enough to be able to book a last minute 1/2 day float and wade in September with Wapiti Sports in Canmore, Alberta. Just floating on the beautiful Bow River with it's clear emerald waters is an experience you shouldn't pass up. Nick was my guide for the day and was most accommodating and friendly, setting me up with everything I needed to fish these unmatched trout waters. Nick was very knowledgeable about the area, history, wildlife and of course fishing. You might have a lot of fishing experience, but you'll still learn more! If you listen to Nick and try to do what he says, you will catch fish. Remember, you're fishing in his backyard and he knows how to put fish in the boat. Nick was cheering me on with every cast and got as excited as me with each strike and hookup. I only whish that I had booked a full day! He's a great fishing partner that I'll seek out the next time I'm in the Canmore area. With the Three Sisters Mountains in the background, you'll have an amazing trip. These guys get a 10/10 with the highest recommendation.

Teddy E
September 1, 2022.
Float Trip Booked a float trip for the end of August (2022). Dale was our guide and put us on a ton of fish! We had a blast spending the day with Dale and the rest of the Wapiti team.

5-stat fishing experience This was an amazing fishing experience! Our guides, Nick and Dale, were very awesome, knowledgeable and welcoming the whole way. They had all of the equipment we needed, and were very helpful throughout the whole trip. They made myself, wife and two children very comfortable. We had a lots of laughs and enjoyed a spectacular day on the river. We caught a total of 63 fish in total! Overall a 10/10 excursion and would recommend it to all visiting the Canmore area. less

Amazing fishing trip! This was an amazing fishing experience! Our guides were very knowledgeable and welcoming the whole way. They had all of the equipment we needed, and were very helpful throughout the whole trip. We caught a total of 56 fish! Overall a 10/10 excursion and would recommend it to all visiting the Canmore area.

Zero Customer Service I purchased a TFO Fly Rod Reel/Rod combo along with the necessary accessories on June 24th, 2022 amounting to $397. The rod tip snapped on my 3rd fishing day out. I returned to the store at 15:15 on July 14th, as a customer with receipt and broken tip in hand. The rod is under warranty but instead of providing any assistance to the customer I was told I would need to drive to Calgary spending my own time and gas and in addition pay $35+ to fix the rod. They continued to state they do not carry spare parts and had no interest in assisting in anyway with the warranty or replacement parts. Its pay and forget customer service approach breaks through the illusion that any items purchased be promptly and easily fixed if any issues arise. Total cash grab, and exceptionally terrible customer service. When I was looking to purchase the rod I stood in store for over 20 minutes just waiting for help whilst a personal conversation was finished. Shop elsewhere, Canadian Tire nearby would have provided three times the service than here.

Graham
February 19, 2022.
True Albertan Hospitality! As first-time ice fishers, this experience with Wapiti Sports checked all the boxes! Our guides set us up in our own hut with hot apple cider, pastries, and a heat source to keep us warm. They went out of their way to ensure we were comfortable throughout our time on the frozen lake. Wapiti, we're looking forward to coming back this summer to go on a river float fishing trip with you!

Stray95
February 1, 2022.
Wapiti comes thru again First Ice Fishing trip for this 69 year old. Had 2 GREAT GUIDES Nick & Aaron that just made the ENTIRE TRIP WORTH IT! Caught fish, Nick prepared them. Ate, laughed, told stories enjoyed the entire day. If you have ANY ADVENTURE left in you and your going to Canmore look up WAPITI SPORTS and talk to Nick. YOU WON'T BE DISAPPOINTED! 👍🏻👍🏻👍🏻👍🏻👍🏻
darrenziebs
January 18, 2022.
Great ice fishing with a great company An amazing day spent on Spray Lakes thanks to Nick and the crew at Wapiti. Their awesomeness started off when I showed up and the Railway Ave location and they immediately lent boots for my wife and myself given that ours weren't up to snuff. Then after a short drive to the lake we walked out to the huts while Nick gave us some information about the area and filled us in on what to expect. Nick was an awesome guide, extremely helpful and friendly. He cooked us up a fantastic lunch with the fish we caught in the morning and was constantly checking up on us to make sure we had everything we needed. Nick and the rest of the crew at Wapiti really excel in customer service and it made for an unforgettable day! The kids are already talking about the next adventure with Wapiti.
Gear. Licenses. We've got you covered.
At Wapiti Sports & Outfitters we are here to provide you with friendly service and great selection. Whether you are new to fishing or a fly fishing expert, our friendly and knowledgeable staff are here to help you get out on the water and experience the fishing and mountain vistas this area has to offer.