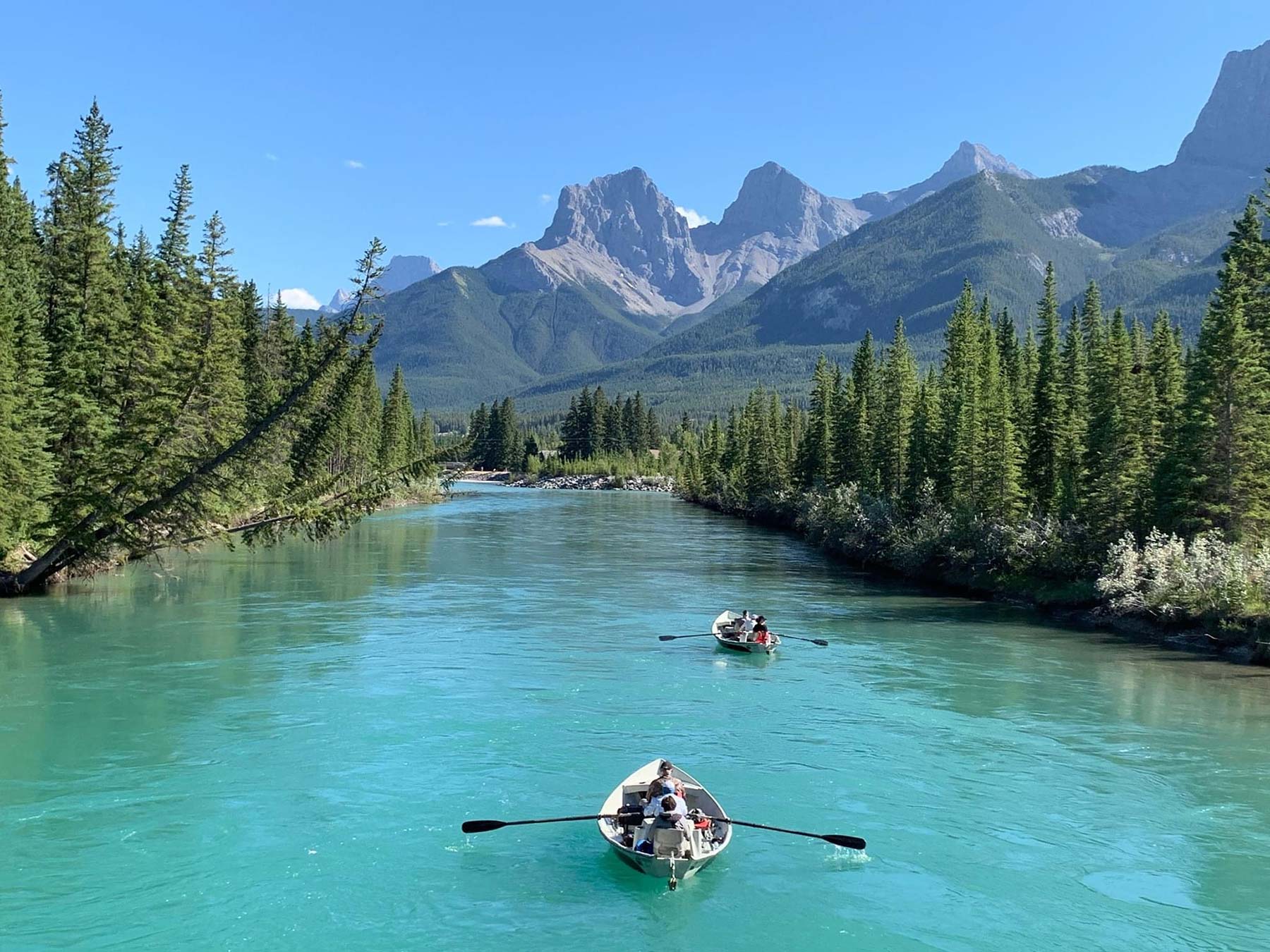 Your Fishing Headquarters in the Canadian Rockies for over 30 Years!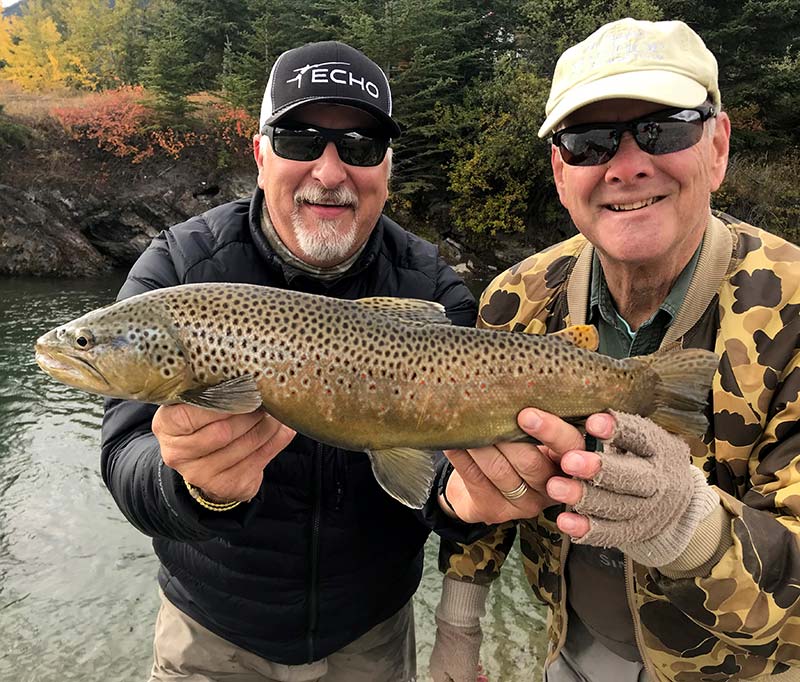 The entire Wapiti Team welcomes you to the beautiful Bow Valley in the Canadian Rockies. We love our home and can't wait to share it with you.
We offer a comprehensive selection of fly and spin fishing gear in our full service retail store, fly casting lessons and fully guided fishing trips in the Canmore area.
Whether it's choosing that perfect fly rod, or booking a day of fishing with a knowledgeable guide – we are here to help!
The world renowned Upper Bow River runs right through the town of Canmore. Our pristine mountain waters harbor some of the most spectacular trout fishing in the province of Alberta. This stretch of river is strictly Catch & Release to provide you with the Brown Trout excitement that the Bow River is famous for. There are few places in the world with views like that of the Upper Bow River and the rugged peaks of the Alberta Rockies will take your breath away.
The town of Canmore lies amidst the most magnificent mountain scenery. A picturesque view of the majestic Alberta Rockies awaits you. We are located approximately one hour west of the Calgary International Airport and just minutes east of the Banff National Park Boundary.
Come join us for a Guided Fishing Adventure found only in the Canadian Rockies.

Mikaela M
August 27, 2021.
BEST DAY EVER We Loved our experience at Wapiti sports!!! As inexperienced fishers, we ended up catching 37 fish! The guides were unreal and super enthusiastic all day, they coached us through all the techniques and made everything super easy and fun. All the Gear was amazing quality and same as the rods. Good vibes and the best day ever. If coming to Canmore you have to fish with Wapiti sports

scubaman C
August 26, 2021.
Best River Fishing Experience in the Canadian Rockies This is an amazing unique experience! Imagine slowly floating down a turquoise coloured river, no sound of a motor(Nick rows you like a pro around every jaw dropping bend, surrounded by the mountains, and then puts you on fish on every turn! ) Brown Trout, the most beautiful trout, ounce for ounce one of the most aggressive fish! Super fun! Super guide, immediately positive, great teacher, great with my 16 year old son. I hire guides everywhere I go and this guy is a beauty!! Definitely one of the best. 28 brown trout caught in a full day including a 20 and 18 incher. The best part is we did not see a single other person the whole day and we had perfect weather!! Too remote!! Nick jokingly apologizes for the isolation! Finished the day watching a black bear swim across the Bow river and climb up a vertical bank like it was nothing! All caught on video. Nick was as excited to see that as he was with my son's 20 incher. He even taught him how to fly fish! It does not get better than this. If you like spot target casting do this with Nick, you won't regret it. As the man says"I know where these Brown Trout live"!! 100% catch and release. Not an inexpensive experience, guided fishing never is, but memories that are worth every penny!!

Excellent To busy catching fish to really have a favourite part. Was an Awsome day all around. Was a super Smokey day due to the fires but you can't control ol Mother Nature The guide was top notch and got us to the fish in every spot also was very helpful with casting tips and pointers. They did also bring spin casting equip for us as a back up.

Lorrie S
August 12, 2021.
Top notch fun!! Last year my husband and I booked a fly fishing trip with Wapiti. We are hooked, best time ever. Our guide Dale was so personable and his knowledge he shared was bar none.

Hannah M
October 28, 2020.
Great experience The following review is written on behalf of Bruce Campbell, CEO of Standish Towing and Recovery LTD: Wapiti Sports has been a great asset to our fleet - as being properly outfitted for demanding roadside conditions is of paramount importance. Having this gear in a short amount of time is essential, but in a small mountain town, it is more difficult than we would like it to be. That being said, the help received from the salespeople at this location really made an impact. From messaging the store to having my goods arrive was only a matter of days, which absolutely exceeded expectations. In the Bow Valley, it is difficult to have employees trained and informed adequately about the products and services they offer. I have received great help in the queries I have posed, and genuinely encourage those shopping for outdoor equipment to stop by the Wapiti sports location in Canmore. -Bruce Campbell Standish Towing and Recovery LTD

Good times fishing I caught the biggest fish of my life! Nick and aaron were very helpful and made sure we were comfortable the whole trip! Great trip and would recommend
Jonathan1959
October 20, 2019.
Fantastic day's fishing hosted by Wapiti Sports Just returned from a holiday in the Canadian Rockies, and being a keen fisherman, wanted to organise a guided fishing trip on the Bow River. I have to say how impressed I was with everything about Wapiti Sports and Outfitters. From the efficient contact online, to the warm welcome from Terry in the shop, to the expertise that Dale showed in guiding me, my experience was all I hoped it would be. Dale is an expert guide and has spent his life fishing the Bow, and it really showed as he guided me down the river, patiently seeking out the best spots and putting me over lots of fish in quite challenging low water conditions. The fact that only about half the fish I hooked made it to the net was largely my fault, but I couldn't fault his expertise, his knowledge and his hard work on the oars! In the end I landed five fish, which I was well pleased with. All in all, a great days' fishing and a wonderful experience. Highly recommended service from a great team.

Michelle T
September 10, 2019.
Beautiful day on the Bow River with Nick! We had a great day fishing on the gorgeous Bow River! We had the pleasure of hanging out with Nick all day who kept us smiling and laughing the entire time. I can still hear his commentary and little one-liners in my head 🙂 Nick was very fun to be around, extremely knowledgeable about the area and, of course, a great fisherman. We learned a lot! It had just rained so the water was a bit murky so we couldn't do fly fishing, but we still caught some beautiful brown trout with the spinners. We ended up extending our tour a few hours because we didn't want to leave. If we're ever back in Banff we will have to reunite with our buddy and catch some big guys on the fly. WHAM!

Great days Ice fishing with Wapiti!! We had not one but TWO fantastic days with Nick and Aaron. We had so much the first day we decided to book a second trip as the grand finale of our trip to Canmore and the Canadian Rockies. These guys think of everything. From the beginning of the day when you are getting your fishing license in their store to the well groomed hike out to the lake, they are proficient and friendly. They have lots of knowledge about the area and love sharing it! We were traveling as a family with our children (9 and 12) and my mom (79) and they were so helpful and accommodating. We caught several "lakers" and Nick and Aaron fried them up while we were there. "Best day ever our kids said!"

Alex Lat
January 31, 2019.
Ice fishing My 14yr old son, wife and myself went ice fishing with Nick and Marla from Wapiti sports. What a day! Nick was awesome! He showed us some tips and watched my boy and wife catch fish! Lake trout! I cannot remember the last time I saw my family have so much fun! We had a mid day lunch which was out of this world! Talk about fresh fish! Nick prepared and cooked it to perfection! He also taught my boy how to fillet the fish as well. My boy is now fish crazy and I think I will need some more fishing gear! My wife has caught one fish prior to this excursion and she was hooked as well. Thanks for a awesome day Nick and Marla! Can't wait to do it again!
Gear. Licenses. We've got you covered.
At Wapiti Sports & Outfitters we are here to provide you with friendly service and great selection. Whether you are new to fishing or a fly fishing expert, our friendly and knowledgeable staff are here to help you get out on the water and experience the fishing and mountain vistas this area has to offer.